MS AmaLotus, APT River Cruises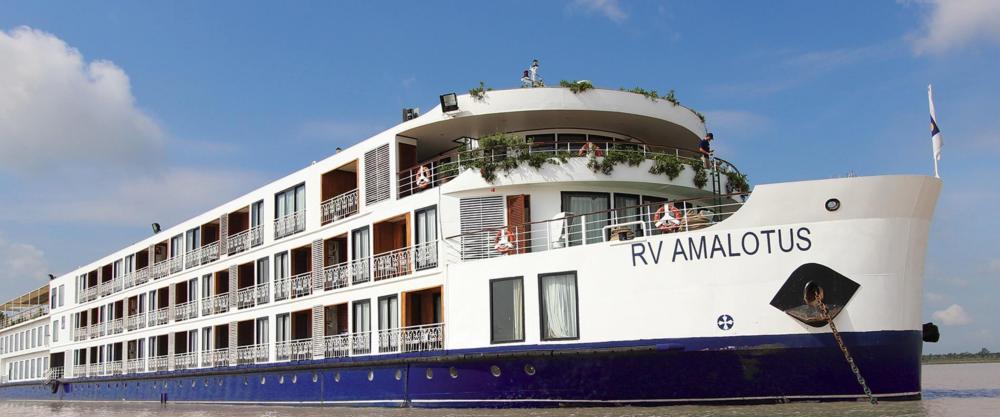 APT River Fleet: MS Amabella MS Amadara MS Amalotus MS Amareina MS Amastella MS Amaverde MS Amavista
The award-winning MS AmaLotus has been built specifically to reflect the sophisticated tastes of the APT customer. Offering spacious all-suite accommodation, 90% of which features innovative Twin Balconies, MS AmaLotus offers her guests luxurious surroundings and attentive service. A crew of 50 guarantees a personalised service, with almost one staff member for every two guests.
Experts in River Cruising and the Lower Mekong
APT's years of experience make them experts in river cruising and their experience of the Lower Mekong is extensive. Your river cruise ship will traverse the Asian waterway in luxurious style, its colonial decoration reflecting the surroundings through which you sail and adding to the immersive and authentic experience.
Sumptuous Asian Cuisine
Enjoy sumptuous Asian cuisine in the Mekong Restaurant, with impeccable service and fine wines complementing your evening. Throughout the day, you can enjoy light meals and great company in the Saigon Lounge, where floor-to-ceiling windows offer panoramic views across the river; catching sight of a floating market or tiny riverside village with inquisitive locals never fails to take your breath away. Also offering stunning views is the Panoramic Lounge, located forward of the ship for a unique vantage point.
Stylish Social Places
The Sun Deck is our favourite place to enjoy a coffee and the swimming pool is the perfect spot to cool off amid the hot Asian sun. Stay refreshed with regular trips to the shaded bar area and remember to bring your book; the lounge chairs are calling out to be reclined on under sunny skies. Looking for ultimate relaxation? Lose yourself in the library or indulge in a treatment or two at the spa.
» 62 suites – ranging between 226 sq. ft. and 624 sq. ft.
» 90% of suites feature Twin Balconies (French Balcony/Outside Balcony)
» Private butler available in some suites
» Swimming Pool
» Sun Deck with shaded bar, alfresco dining area and lounge chairs
» Spa
» Library
» Panoramic Lounge
» Saigon Lounge
» Mekong Restaurant
» Complimentary Wi-Fi in the Saigon Lounge
» State-of-the-art Infotainment System in all staterooms featuring free internet access, Hollywood movies, extensive music library and English language TV stations