Azamara Pursuit, Azamara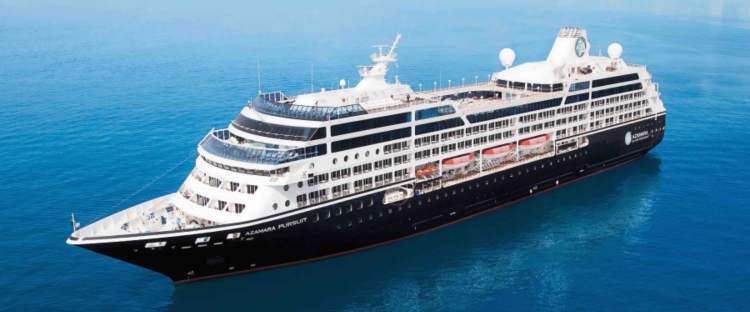 Azamara Fleet: Azamara Journey Azamara Pursuit Azamara Quest
Sailing into places larger cruise ships can't, Azamara Pursuit will be opening the door to new maiden ports, new itineraries and more immersive experiences than ever before. Like sister ships Azamara Journey and Azamara Quest, Azamara Pursuit has the genial club-like atmosphere and you're sure to fall in love with the way the staff and crew get to know you.
» Capacity: 700 guests
» 73 new destinations
» 63 new overnight stays
» 50 new itineraries
» 19 maiden ports
Azamara Pursuit will carry just 700 guests and is the perfect choice for those who prefer small ship cruising or anyone who prefers ports of call at the heart of a destination.
New Destinations
Azamara Pursuit will take you to 15 new ports, plus new-to-Azamara destinations including Antofagasta (Chile), Lima (Peru), and the Beagle Channel. With overnight stays and the ability to dock at smaller, less-travelled ports, you can explore further and enjoy more time to experience the world's many wonders.
Azamara Staterooms and Suites
From polished style and stellar service in all staterooms to contemporary décor, luxurious linens, plush cotton robes and more in a choice of suites on board, Azamara's signature staterooms and suites offer guests new and improved luxury accommodation.
Dining on Azamara Pursuit
Dine in luxury and elegance at one of the specialty restaurants and discover the world through dishes and flavours from the places you'll visit. Find some of Italy's most celebrated dishes in Aqualina or opt to savour perfectly-cooked succulent steaks in Prime C.
In the Windows Cafe the daily themed dinner often takes its inspiration from the region you're visiting, whether that be India, Mexico, Spain or Italy. Plus, with the addition of the extra live station, you can make the most of food made from local ingredients purchased in port, from Greek salad made with local feta to fresh pasta prepared with local mushrooms from Italy.
The Wine Cellar
From small labels to rare vintages, you're sure to find a wine to suit your palate. If you need a helping hand in deciding wine is best for you, one of the knowledgeable sommeliers can help you pick the perfect wines for your evening meal. Be sure to join one of the Wine Corner gatherings in the Mosaic Café too, where you can discover new wines and benefit from the knowledge and guidance of one of the friendly sommeliers.
Inclusive Amenities
With complimentary AzAmazing Evenings® events, select standard spirits, international beers and wines, gratuities to self-service laundry, almost everything is already included in your cruise fare so you can leave your wallet at home.
Book your Azamara Pursuit cruise holiday here today.