Boudicca, Fred Olsen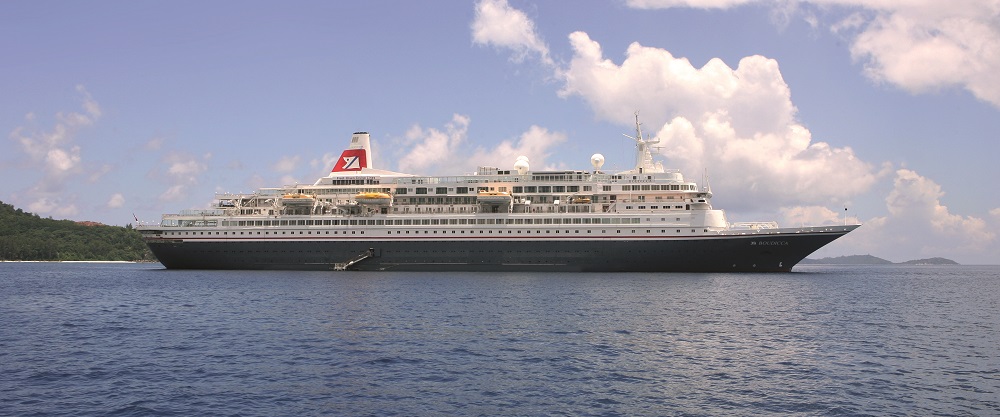 Fred. Olsen Fleet: Balmoral Black Watch Bolette Borealis Boudicca Brabant Braemar
Truly British Boudicca is the Fred Olsen ship of choice for guests looking for spacious surroundings and personalised service. Accommodating just 880 passengers, Boudicca is one of the smallest cruise ships around, but what she lacks in size she makes up for in character. With fewer passengers on board you're never short of space to relax, and a smaller ship lets you voyage to destinations that larger vessels simply cannot reach. An extensive dry-dock visit in 2013 has reinvigorated the British favourite and it continues to garner a loyal following.
Boudicca is perfect for the intrepid explorer, her itineraries ranging from 4-night European mini cruises, to longer Mediterranean jaunts and even a 76-night World Cruise. Fred Olsen lead the way in themed cruising, including Floral Britannia, Tipples and Tapas, and Film Stars and Fast Cars, to name but a few.
Days Ashore, Relaxing Days at Sea Or Try Something New
For a smaller sized ship, Boudicca's facilities are extensive. Alternate busy days ashore with relaxing days at sea, or step out of your comfort zone and try something new. Fred Olsen's 'Vistas' programme is full of opportunities, with lectures, guest speakers, watercolour classes and ballroom dancing to name but a few of the activities on offer throughout your cruise. Crafty souls will find nirvana in Boudicca's Craft Room, where daily classes give you an opportunity to get creative; take a look at the Daily Times each morning for details of the day's classes.
A Peaceful Retreat
Fred Olsen cater for traditional cruising exceptionally well and the activities on Boudicca reflect this. The ship's library is a popular but peaceful retreat, with plenty of nooks and crannies in which to lose yourself in your holiday read. Brush up on your next destination or pull a book from the shelves that fill the walls; with a coffee in hand it's the perfect place to escape. If bridge is more up your street, you'll be well catered for aboard Boudicca. Tables are available throughout day and night, with daily tuition brushing up your skills or developing new ones. Bridge competitions take place often, unleashing the competitive edge of all those who participate.
Make The Most Of the Sun
With itineraries including the Mediterranean and Canary Islands, you'll want to make the most of the sun. Boudicca's sea deck offers a place to relax against a stunning backdrop; time your visit well and enjoy a glass of wine and a spectacular sunset. The ship's fitness centre and gym is also located on Sun Deck 10, along with golf nets with a view even the best golf courses in the world can't compete with.
A Choice Of Two Pools
Boudicca offers guests a choice of two pools; the first, located aft of Lounge Deck 6, is the largest on board and is flanked by two whirlpools and an exercise pool. A smaller pool is located aft of Marquee Deck 9 and offers fantastic views across the ship's wake. Swim and spa go hand in hand, and Boudicca's Atlantis Spa & Salon is open daily. Indulge body and mind with treatments including Thalgo facials and hot stone massages, or head to the salon for a pre-formal night makeover.
See Something New Each Night
Neptune Lounge is Boudicca's largest entertainment venue, filling to the rafters each night for performances by acts including tribute bands, comedians and stage shows. Twice-nightly performances mean you'll always have chance to enjoy the show, and you'll see something new each night. The Boudicca Orchestra take to Neptunes Lounge each evening before the shows begin, encouraging twinkle-toed guests to show off their ballroom dancing skills before dinner.
Located next to Neptune's Lounge is the Morning Light Pub. This quintessentially Scottish pub will appeal to real ale fans with its selection of bottled ales, along with a great selection of spirits and draught beers. Grab a drink before the show or enjoy a quieter scene during the day, when the pub's sofas fill with guests enjoying coffee and conversation.
The Observatory is a popular feature across the Fred Olsen fleet, thanks to panoramic windows that offer incomparable views with which to enjoy your pre-dinner drink. With a pianist playing in the background and a cocktail in hand, your time in The Observatory will start your evening in style.
Gourmet Meals Prepared By Award-Winning Chefs
Boudicca has three main dining rooms. Offering gourmet meals prepared by award-winning chefs, the Four Seasons and Tintagel Restaurants are the largest dining rooms on board. The Heligan Restaurant offers a more formal dining experience amidst more intimate surroundings. Each of Boudicca's three dining rooms offer open-seating breakfast and lunch, and a choice of two seating's for dinner (6.15pm or 8pm). Boudicca's chefs are passionate about food and the choice and quality of the ship's dining is excellent; from five-course evening meals to glamorous Gala nights with specially selected menus.
The Secret Garden
The Secret Garden is a great option for guests who prefer more choice when it comes to dining. The informal buffet venue offers the same fantastic cuisine as the main dining rooms, but with the freedom to dine when you like. Oriental themed décor and a relaxed atmosphere make The Secret Garden an attractive alternative to the ship's main dining rooms. If you prefer a formal dinner, head to The Secret Garden for Afternoon Tea; an indulgent occasion nowhere better enjoyed than on a cruise ship.
The Grill
Located poolside on Deck 6, The Grill is new to Boudicca. Perfectly placed to take advantage of warm weather, you can dine at the open air restaurant while surrounded by tranquil ocean views; enjoy your breakfast in the fresh air or enjoy your evening meal al fresco for a small charge. Similar to The Grill is the Marquee Bar; another al fresco option, with fish and chips, burgers and salads providing an informal but delicious lunch in warm weather.
Café Venus Is A Must
However you choose to fill your time aboard Boudicca, a coffee or tea break at Café Venus is a must. We Brit's love our tea and kept this in mind when they collaborated with British tea institution Taylor's of Harrogate. Masters of the great British brew since 1886 and suppliers to the fantastic Betty's Tea Rooms, Taylor's of Harrogate provide speciality teas and coffees for Boudicca's Café Venus. Treat yourself to a handful of praline or champagne truffles and indulge with reckless abandon.
Dress Code
Boudicca's dress code is a casual one. All restaurants allow smart shorts and t-shirts during the day, with stylish separates and open-neck shirts preferred for evening. No trainers, t-shirts, shorts or tracksuits are allowed in the main dining rooms at any time.
Each 7-night cruise will include at least one formal evening and this is the perfect occasion to go for glamour. Glitz and glam is the order of the day, with gentlemen donning smart dinner jackets and tuxedos, and ladies dressed to impress in cocktail dresses and full-length frocks.