Sea Princess Cruise Ship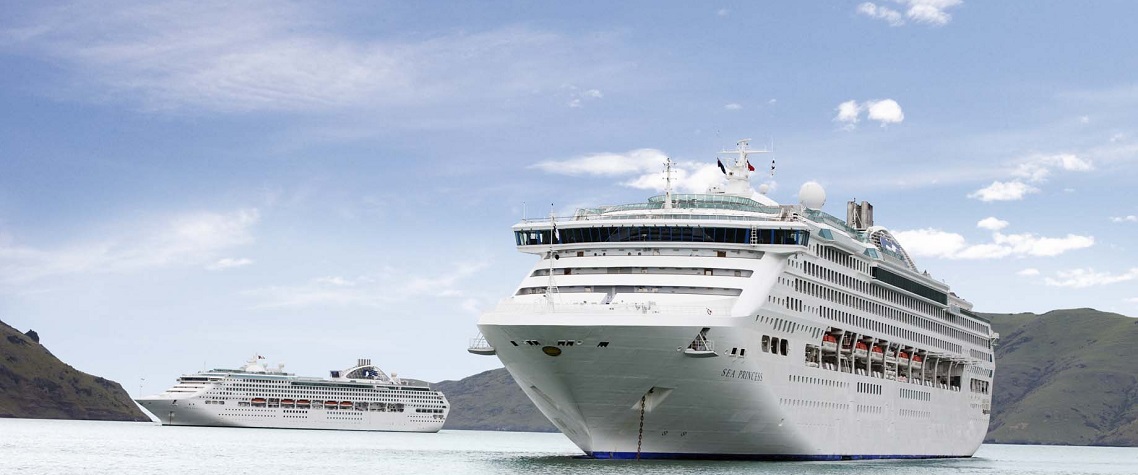 Princess Cruises Fleet: Caribbean Princess Coral Princess Crown Princess Diamond Princess Emerald Princess Golden Princess Grand Princess Island Princess Pacific Princess Regal Princess Royal Princess Ruby Princess Sapphire Princess Sea Princess Sky Princess Star Princess Sun Princess
Sea Princess welcomes loyal passengers year after year, her welcoming manner appealing to those who prefer the classic cruising experience. While other ships in the Princess Cruises fleet offer wildly exciting and innovative facilities, Sea Princess retains the familiar elegance of traditional cruise ships. Greeted with a gleaming monochrome marble and glass atrium, your spectacular first impressions of this mid-sized ship will set the tone for a cruise holiday to remember.
Sailing from ports in Australia, New York and the Far East, the intriguing itineraries of Sea Princess are as impressive as her facilities. With a 10-day dry dock reinvigoration planned for 2015, this sophisticated ship is set to continue making waves around the world.
Activities and Recreation
A cruise holiday on board Sea Princess will take you to some of the most spectacular shores in the world, with Bora Bora, Maui, New York, the Panama Canal and Vietnam just a handful of destinations set to enthral. In between your on shore explorations, sea days will see you duly relaxed and reinvigorated, thanks to the Princess Cruises' signature facilities.
Sea Princess blends tradition and innovation perfectly. Enjoy afternoon tea and traditional deck games one day, and sip expertly mixed cocktails beneath a 300-square foot poolside movie theatre the next. How you fill your days is completely up to you; yearning for some rest and relaxation? Head to The Sanctuary; an exclusive adults-only area with dedicated steward service, plush loungers and private cabanas more usually found in a luxurious 5-star resort.
Pave the way for ultimate relaxation by paying a visit to the Lotus Spa, located aft of Riviera Deck. Soak your shoulders in the pool or one of two hot tubs, before indulging in a treatment from the spa's extensive list. A combination of body treatments in the spa and beauty treatments and cosmetic procedures in the salon will have you glowing from head to toe. A well-equipped fitness centre and varied aerobics classes complete the health club experience, leaving you totally and utterly reinvigorated and ready to explore.
If you prefer your recreation from more literary forms, head to the library; a cosy and welcoming nook in which to melt into your holiday read undisturbed. Located overlooking the grand atrium area, the parade of shops on board Sea Princess tempts shoppers with designer wares; a coffee and freshly baked cookie from Patisserie keeping you fuelled between stores.
Princess Cruises' signature ScholarShip@Sea programme offers a chance to unleash your creative side or get to grips with something more technological; an array of programmes, classes and expert-led lectures on offer throughout your holiday.
Evening Entertainment
Comedians, musicians and more of the finest performers at sea make up the canon of talent on offer every night on board Sea Princess. The glimmering atrium sits at the heart of the ship and it's street performers entertain passengers day and night amidst the glamorous setting.
The 600-seater Princess Theatre is the hub of entertainment, with movie showings throughout the day and live performances in the evening. Whether lit with the lights of Broadway-style performances or playing host to live music shows; the theatre is a grand space that fills with an eager audience each night.
The Wheelhouse Bar provides a taste of home on even the most exotic of shores, with wood-panelled walls and brass fittings lending a traditional English pub atmosphere to the venue. Enjoy a pint in the cosy surroundings or head to the Sports Bar, where live sports fill the screens day and night (great for dads who can't go a week without watching a match…or two!)
Bellini, mimosa or champagne toast; elegant champagne bar Premier Cru has the bubbles taken care of, so you can raise a glass and toast to a fantastic holiday. Holidays are the perfect time to let loose and where better to let your hair down than on the dancefloor at Razzmatazz nightclub; the most happening spot on board, where music accompanies the partying into the wee hours.
Dining
Great food is intrinsic to the Princess Cruises experience and Sea Princess certainly doesn't disappoint her diners. Two main dining rooms offer a choice of Traditional dining and Anytime dining to guests. Located on Deck 6, Traviata is the ship's Traditional dining room, with diners enjoying the same table companions and sitting each evening. Deck 5 plays host to Anytime dining room Rigoletto; here, guests can dine at a time to suit between the hours of 5.30pm and 9.30pm each evening, opting to join a larger table or enjoy an intimate dinner for two. Both main dining rooms serve the same delectable menu, with gourmet creations sitting alongside classic favourites and healthy eating options. Along with dinner service, both main dining rooms also open for a sit-down breakfast each morning.
Located midships, Café Corniche is Sea Princess's third complimentary dining venue. Enjoy full waiter service and a vibrant atmosphere while you dine on Italian eats, with delicious antipasti, Neapolitan style pizza, soft focaccia and rich tiramisu all appearing on the tempting menu.
Princess Cruises' infamous Sterling Steakhouse is an alternative restaurant that will appeal to lovers of fresh seafood and rich, meaty steaks. Located within Horizon Court, the speciality dining venue delights guests with steakhouse favourites including Pan-Roasted Chilean Sea Bass, Porterhouse steak and the magnificently indulgent Seven Layer S'mores Stack.
Great food isn't reserved just for evening dining; wherever you are on Sea Princess, you are never far from a good meal. Horizon Court offers buffet dining through breakfast, lunch and dinner, with chefs manning dedicated food stations to prepare meals just as you like them. If you'd rather not venture too far from the poolside, burgers, hot dogs and juicy kebabs from the Riviera Grill will hit the spot between sunbathing. Located close to the children's clubs and main pool on the Lido Deck, the grill restaurant is a popular place to refuel between swimming and sunbathing.
There are few better ways to celebrate a special occasion on board a cruise ship than with Ultimate Balcony Dining. A signature Princess Cruises feature, this intimate and indulgent experience can be enjoyed as a champagne breakfast or evening meal; champagne and fresh flowers setting the mood, while a dedicated waiter serves your meal course-by-course on your own private balcony.
Dress Code
Sea Princess adopts the same dress code as one would expect at an elegant land-based resort during the day and across most evenings. Exception to this rule are formal nights, with two scheduled each week. An excuse for all-out-glamour, formal night sees everyone on board don their finery, with tuxedos or dark suits for the gentlemen and stylish evening wear for the ladies.