AmaKristina, AmaWaterways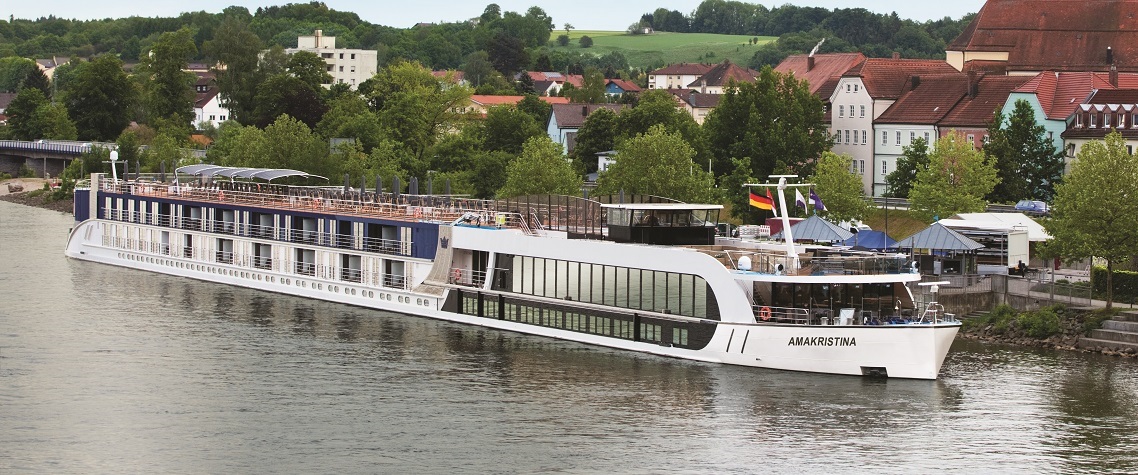 AmaWaterways Fleet: AmaBella AmaCello AmaCerto AmaDagio AmaDante AmaDara AmaDolce AmaDouro AmaKristina AmaLegro AmaLotus AmaLyra AmaPrima AmaMagna AmaPura AmaReina AmaSerena AmaSiena AmaSonata AmaStella AmaVenita AmaVerde AmaVida AmaViola Zambezi Queen
AmaKristina invites 158 passengers to explore the world in luxury and comfort as she navigates through Europe's most scenic rivers and oldest cities. AmaKristina will serve as your floating hotel, so unpack once and enjoy all the sights on your chosen river cruise destination. Add La Chaîne des Rôtisseurs cuisine, free-flowing wine and superior service into the mix, and the result is an outstanding river cruise holiday that won't be forgotten in a hurry.
Make Yourself At Home
Sleek hallways, modern artwork and inviting lounges are built to make you feel right at home and it's this attention to detail that distinguishes AmaKristina, and indeed AmaWaterways, apart from other river cruise lines. Your expert Cruise Manager will be with you every step of the way, with every crew member - from housekeeping staff to the Captain - dedicated to providing you with excellent service.
» 158-passenger vessel
» Twin balconies
» A choice of dining venues
» Heated swim-up bar
» Walking track
» Al fresco terrace
» Observation Lounge
» Main Lounge and bar
» Massage and hair salon
» Complimentary in-room internet access
English is also the universal language spoken on board. Each thoughtfully planned itinerary allows you to make the most of the history, scenery and atmosphere of your destination; all you have to do is let AmaWaterways lead the way.
Inviting Hallways and Gleaming Décor
Relaxing is easy on AmaKristina. The Main Lounge is sophisticated and inviting, whilst a sunken pool urges you to take a dip and enjoy a cocktail or two from its swim-up bar. Alternatively, wind down on one of the sun lounges that flank the pool or let the spa staff take care of all your beauty woes. Dark wood and cream walls accent your stateroom, and funky colourful elegance exudes from the lounges on board with striped sofas and chairs bearing bright fruit motifs in red, creams and teals. The intimate nature of AmaKristina, and the leisurely pace of river cruising, means that there is plenty of opportunity for you to socialise with new friends.
Set Your Own Pace
Set your own pace on shore excursions and be as active or relaxed as you wish. AmaWaterways hire only the top local guides in every location and you'll have plenty of choice when it comes to walking tours and guided bicycle tours. If you'd rather give the shore excursions a miss, simply relax in your plush stateroom where you can enjoy a drink and take in those amazing views from your balcony, making the most of the fresh air on the river.
Bold New Flavours
Menus have been designed by the revered team of chefs on board and dining aboard AmaKristina is always done in style. Enjoy breakfast in the Main Restaurant, where freshly baked breads, pastries and more are served from 7am daily. Lunch is served on the Al Fresco Terrace, where the buffet is laden with fresh salads, hot entrees and pasta dishes. Of course, you can head to the restaurant for full menu service if you prefer. Dinner is a multi-course affair and you'll be invited to savour the taste of bold new flavours and delicious regional specialities, each meal accompanied by free-flowing regional wines, beer and soft drinks.
Local Evening Entertainment
Whether it's traditional Bavarian music, a classical quartet, a performance by a local dancer or your favourite melodies played on the piano, the evening entertainment is always an electric affair. The Main Lounge is a welcome retreat at the end of a busy day ashore, inviting you to sit, dance and join in with all the fun, whilst floor-to-ceiling windows showcase ever-changing panoramic views capable of lulling you into a world of your own. Elsewhere on board, the cosy and secluded Library offers a private spot for reading and games, while the flat screen infotainment system in your stateroom beckons you for an early night with a good film.