AmaVerde, AmaWaterways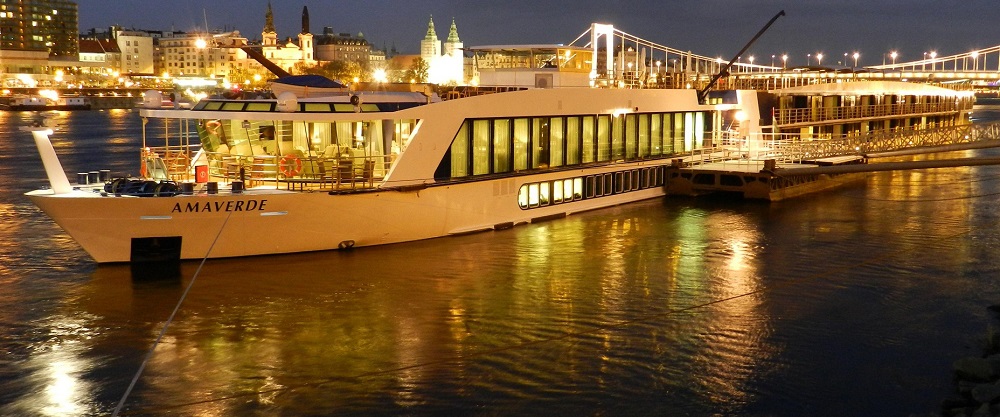 AmaWaterways Fleet: AmaBella AmaCello AmaCerto AmaDagio AmaDante AmaDara AmaDolce AmaDouro AmaKristina AmaLegro AmaLotus AmaLyra AmaPrima AmaMagna AmaPura AmaReina AmaSerena AmaSiena AmaSonata AmaStella AmaVenita AmaVerde AmaVida AmaViola Zambezi Queen
With an emphasis on food and wine and comfortably stylish surrounds, AmaVerde is one the most beautiful ships on Europe's rivers. With only 161 passengers, twin balconies gracing most staterooms, contemporary décor throughout the ship and delicious food at every meal, why wait a moment longer to set sail on a river cruise with AmaWaterways.
Spacious Staterooms Aren't Limited to a Lucky Few
Double balconies grace the majority of the staterooms and such luxury is limited to a lucky few; on AmaVerde's top two decks, they are plentiful. Slide open the floor-to-ceiling windows of the French balcony and catch the views from the comfort of your stateroom, or venture onto the outdoor balcony with a book.
» 161 passengers
» Twin Balcony staterooms
» Heated swimming pool
» Fitness Centre
» Contemporary décor
» Spacious public lounges
» Impeccable service
» Complimentary use of bicycles in port
» Complimentary use of internet
Style and Sophistication
AmaVerde's Observation Lounge is the heart of the ship. There's a semi-circular bar, small library nook and floor-to-ceiling glass windows that all set the scene. Some nights, local singers, dancers and musicians will join you for the evening, whilst the resident pianist is always on board to provide you with variety of piano music day and night. The Sun Deck is essentially an extension of the lounge, where comfy and inviting wicker chairs are a popular gathering spot, as is the pool and its swim-up bar. Take a brisk walk around the walking track, grab an hour on the putting green or enjoy the passing views from the cosy seating area on the bow.
Take Time To Pamper Yourself
Who doesn't deserve to be pampered every now and then? Nestled in a peaceful corner on board AmaVerde sits the Massage, Beauty and Hair Salon where a team of hair stylists, masseurs and beauty therapists are all at your disposal. Pamper your mind, body and soul, leaving you refreshed and raring to go for another day full of adventure.
Taste Your Destination
Look on as your private chef cooks up a storm at the Erlebnis Chef's Table Restaurant, enjoy a leisurely lunch in the main lounge or for fine Italian fare, complete with a side serving of impeccable service, dine in the sophisticated Main Restaurant. Menus will typically reflect the region in which AmaVerde is sailing, from Hungarian Goulash during a cruise along the Danube to Bavarian style lunches, pretzels and German Beers.
Stray Beyond the Usual City Guide Tours
The range of possibilities for you to explore in port are endless, with highlights including themed experiences tailored towards art, history, food and wine, from culinary tours in Vienna to a trip to Austria's lakes. Alternatively, you can stray away from your typical city tour and take advantage of AmaVerde's complimentary bicycles to explore ports like Durnstein and Linz on two wheels. Walking tours are also offered at a variety of paces for guests who would prefer to take a more leisurely stroll.