Emerald Princess Cruise Ship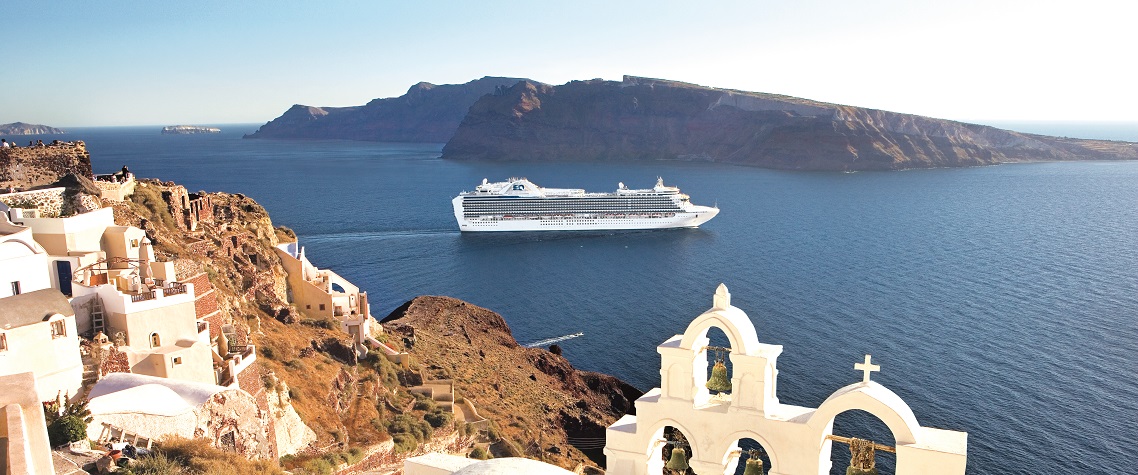 Princess Cruises Fleet: Caribbean Princess Coral Princess Crown Princess Diamond Princess Emerald Princess Golden Princess Grand Princess Island Princess Pacific Princess Regal Princess Royal Princess Ruby Princess Sapphire Princess Sea Princess Sky Princess Star Princess Sun Princess
When launched in 2007, Emerald Princess was one of the largest ships in the Princess Cruises fleet and she remains one of the most impressive. A refurbishment in 2012 reinvigorated the ship, polishing her original grandeur and adding the signature Princess features such as Movies Under the Stars.
Piazza Atrium
From your very first impressions of Emerald Princess, it is quite clear she is something special. The sparkling Piazza Atrium is the heart of the ship; a gathering place where passengers flock to be entertained by street performers; dine on pastries, tapas and chocolate fondue, and revel in the incredible atmosphere.
Emerald Princess sails Baltic, Caribbean and Mediterranean itineraries, her varied and immersive shore excursions receiving high praise from Bolsover Cruise Club members.
This ship oozes luxury and sophistication, yet offers so much when it comes to your time on shore. A great ship for first time cruisers, Emerald Princess makes sure your shore days are almost as special as your sea days.
The Emerald Princess crew pride themselves on making sure their guests have an incredible time; both on shore and on board.
With four fresh water pools on board and seven bubbling hot tubs, you will never be short of places to soak away your cares while surrounded by sea views. Calypso Reef & Pool is the most popular pool on board, with plenty of comfortable loungers to go around and entertainment both day and night with Movies Under the Stars. Lie back on your lounger and watch the latest movies on the huge screen; warm popcorn, pizzas and comfy blankets supplied as standard.
The Quieter Life
Lido deck is also home to the quieter Neptunes Reef & Pool, while the Terrace Pool is located at the stern and is perfect for those who like to swim laps in a peace.
Serenity seekers will find solace at the Asian-styled Lotus Spa. Spanning two decks, the luxurious spa area offers an array of treatments including teeth whitening, facials, massages and speciality shaves for the gents. In The Thermal Suite you will find everything one would expect from a luxury spa, including heated ceramic loungers overlooking the ocean, tropical rainforest shower, steam rooms and aromatic rooms.
Located on deck 17, The Sanctuary is an adults-only retreat where passengers can relax on plush sofas and private cabanas, with Serenity Stewards pampering to their every need. For a small fee, you will spend the day enjoying chilled face towels, relaxing music via a pre-loaded iPod, al fresco massages and light bites served direct to your cabana. It's the perfect way to spend a sea day.
Burn Off Your Indulgences
Like all ships in the Princess Cruises fleet, Emerald Princess offers its passengers use of a fully equipped gym, where you will find state-of-the-art equipment along with complimentary group workouts. Princess Cruises' infamous Body Sculpting Boot Camp will burn off your indulgences, while yoga and Pilates cater perfectly for those who prefer something more soothing.
Sports fans should head to Deck 19, where basketball, tennis and Ping-Pong tournaments encourage competitive spirit. Pro golfers and amateurs alike can play some holes on the putting green.
Evening Entertainment
Emerald Princess offers an array of entertainment venues and lounges. Princess Theatre is the biggest venue on board, playing host to musical performances and entertainment both day and night. Movies Under the Stars is a popular attraction on board, while the comedians and live music in Club Fusion and Explorer's Lounge guarantee fun-filled evenings. Carry on the fun late into the night with dancing in Skywalker's Nightclub or a gamble at Gatsby's Casino.
Kids can enjoy a better social life than Mum and Dad on board Emerald Princess, with age-specific discos, meals and pyjama parties organised just for them.
Delicious Food All Day Long
You need never go hungry on board a Princess Cruises ship, with an abundance of delicious food available all day long. Enjoy freshly baked pizza from Prego Pizzeria, hot dogs and burgers at Trident Grill, vast and varied buffets at Horizon Court and all varieties of pastries, tapas, coffee and wine at the International Café and Vines wine bar.
Evening dining is done exceptionally well on board Emerald Princess, with three main dining rooms to choose from. Boticelli offers passengers Traditional Dining; eating at the same table and at the same time each evening. At time of booking you will choose your preferred table size and stipulate a sitting of 5.30pm, 6.30pm or 8.30pm.
Anytime Dining is provide in the Michelangelo and Da Vinci Resturants, where guests have the freedom to dine anytime between 6pm and 9.30pm.Enjoy a long day of pampering in The Sanctuary or take your time after a long day in port; with Anytime Dining it really is up to you when you eat and where.
Speciality restaurants are a great way to enjoy something a little bit special and Emerald Princess offers two delicious choices; Sabatini's and The Crown Grill. Serving authentic Italian fare in wonderfully ambient surroundings, Sabatini's is a popular restaurant across the Princess Cruises fleet, while fresh seafood and juicy steaks put the Crown Grill at the top of many a favourite restaurants list.
Special occasions are celebrated in style with Ultimate Balcony dining. Order your favourite meals from the restaurant menu and enjoy an evening of fine dining from the comfort of your stateroom balcony. Dedicated waiting staff with provide exceptional service throughout the evening, complete with champagne and fresh floral arrangements for the dining table. The perfect way to celebrate a special day.
Dress Code
The dress code aboard Emerald Princess is predominantly Elegant Casual for the evenings; however, many love the excitement of a Formal Evening, taking place usually two nights per week with Princess. Gentlemen can strut their stuff in black tie whilst ladies can indulge in the purchase of a lavish new evening gown.