Royal Princess Cruise Ship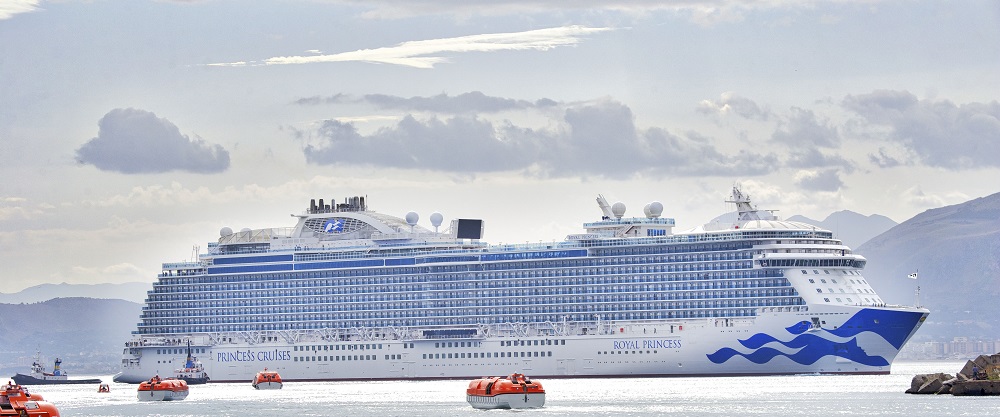 Princess Cruises Fleet: Caribbean Princess Coral Princess Crown Princess Diamond Princess Emerald Princess Golden Princess Grand Princess Island Princess Pacific Princess Regal Princess Royal Princess Ruby Princess Sapphire Princess Sea Princess Sky Princess Star Princess Sun Princess
Royal Princess made her cruising debut in 2013. At an astonishing 141,000 tons, this magnificent ship accommodates 3600 passengers in exceptional style and her design allows for large open deck spaces on which to enjoy the beautiful climates of the destinations she sails.
The third ship to bear the famous Royal Princess name, following on from the original vessel in 1984, once again delivers an innovation of next generation design. A stunning ship to take the brand into a new age whilst maintaining the outstanding traditional features that make Princess Cruises the brand they are today.
Activities and Recreation
Royal Princess offers an outstanding range of recreational features for passengers to enjoy. The sports deck includes tennis courts and a golf simulator whilst passengers looking for something a little more relaxed can enjoy a fine range of art exhibitions and enrichment programmes.
The Sanctuary is an adult only area on board boasting no less than seven private cabanas alongside a striking pool area. Creating a haven for adult guests looking for peace and quiet, The Sanctuary offers a chic intimate feel aboard a contemporary family ship. Everything a passenger requires for a little relaxation is available at their fingertips aboard this stunning vessel.
Glistening entertainment by day includes stunning features such as the delightful Piazza. The glittering Piazza concept was put in place by Princess Cruises throughout the fleet, but was re-imagined for Royal Princess to create a contemporary space that really is the heart of the ship.
Elsewhere, cooking demonstrations are available with the ship's master chefs for guests looking to learn a little something for at home, along with behind-the-scenes tours of the ship's entertainment venues and galley.
Innovation was key for Princess Cruises when developing the new Royal Princess and they achieved their goal with architectural innovations such as the new Piazza and the amazing SeaWalk; a glass-bottomed walkway extending out 28 feet over the side of the ship.
Evening Entertainment
Royal Princess raised the bar for evening entertainment when she arrived in 2013. Princess Live was a brand new concept unique to Royal Princess and sister ship Regal Princess (2014). A state of the art broadcasting studio airing culinary shows, late night comedy and even musical acts features throughout the evening. Feel free to head down to join in or stay in the comfort of your stateroom and watch the whole thing on your interactive flat screen television.
Unwind in one of Royal Princess's many elegant bars. Sip a cocktail in Bellini's or perhaps enjoy a little live piano entertainment in the Wheelhouse Bar.
Broadway inspired shows can be found in the Royal Princess Theatre. The Royal Princess brings you the finest talents at sea in an array of fantastic performances. The entertainment does not stop there; Movies Under the Stars is a sensational innovation across the Princess Cruises fleet. Recline on your very own lounger, lazing in comfort with your glass kept full all evening and a blockbuster movie on the big screen. Moonlit decking creates the perfect setting for family entertainment or a romantic evening for two.
Dining
Princess Cruises' signature speciality venues are maintained, with the inclusion of Sabatini's Italian Trattoria and the extravagant Crown Grill. The Ocean Terrace offers fresh seafood dishes and delicious Gelato's is perfect for passengers with a sweet tooth.
Traditional Dining will be available for guests to select a sitting choice and dine at the same table each evening. Developing a wonderful camaraderie with waiting staff as well as making new friends, this selection will be available for 5.30pm, 6.30pm and 8.30pm sittings.
Anytime Dining will also be available, allowing guests to enjoy the freedom to dine whenever they wish. Between 6pm and 9.30pm the Anytime Dining Rooms will open their doors for passengers to dine, allowing guests ultimate flexibility whilst maintaining the outstanding Princess Cruises service.
For those looking for a little informality without sacrificing choice, guests will love the expanded Horizon Grill. A key feature to the luxurious Royal Princess, this wonderfully set out restaurant is the 24 hour buffet service and offers an amazing selection of dishes. Theme evenings will be set throughout the cruise for specific culinary creations so be sure to check your daily programme to find out more.
Dress Code
The dress code on board continues the traditions implemented throughout the ship itself. Elegant Casual takes centre stage to be complimented by the occasional evening highlight of a Formal Evening. Here guests can enjoy the lavish black tie event to show off their fashion styles along with a glass of champagne in hand.