Norwegian Dawn, Norwegian Cruise Line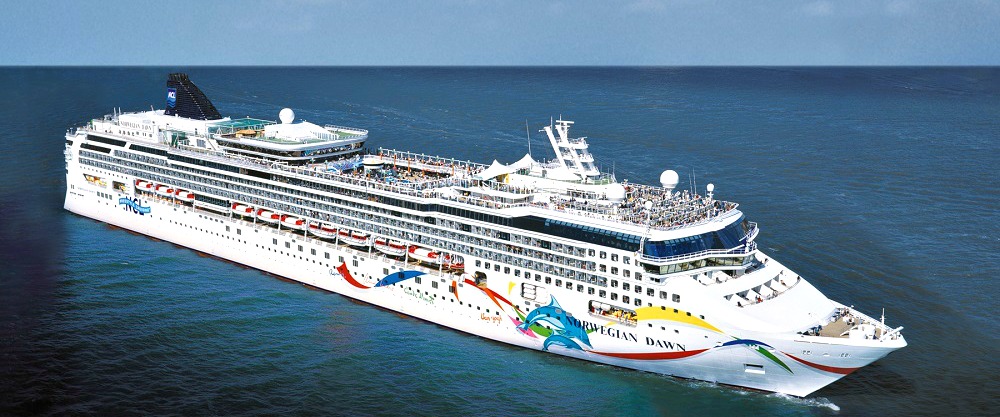 To this day Norwegian Dawn still encapsulates the unique charm of NCL and thanks to Freestyle Cruising you have access to 15 dining venues, 12 bars and lounges, pools, the gym and more. Not only will Norwegian Dawn take you from Boston to the pink sands of Bermuda, she'll be cruising from Miami to Southern Caribbean, where there is nothing quite like sitting under the sun kissed rays of the Caribbean sun as you enjoy a refreshing cool drink.
You'll even get the chance to sail to Canada and New England where Nova Scotia, Charlottetown and Quebec City are just a few of the sensational destinations passengers are invited to witness whilst undertaking this itinerary.
Get Ready To Explore
As soon as you step foot on ship, you'll want to race to your cabin and throw your bag across the room as you've got a whole lot of exploring and activities to enjoy. Head straight for the sports complex and bring your game face with you as you can enjoy five-a-side volleyball or basketball and practise your swing on the golf driving nets. Elsewhere you can sweat it out in El Dorado Fitness Centre on the state-of-art machines or seek inner peace with a yoga class or a massage in the Mandara Spa.
If you're a sun lover, you'll want to make sure that you've got your swimwear tucked away in your hand luggage so you can head straight for a sun lounger on the Sun Deck that's located on Deck 13. Alternatively you can make way down to the Oasis Pool on Deck 12, where you can whoosh down one of the waterslides, or two, and afterwards take a relaxing dip in the pool or hot tub.
Perhaps you'd rather find your own little retreat in the Internet Café, Café at the Atrium or the well-stocked Library where you can even catch up with your favourite holiday read? Browse the boutiques shops of the Galleria and Port o' Call, or head to the Wine Cellar and enjoy samples of wines from all-over the world, while the kids are having fun elsewhere on the ship in the age-appropriate youth programmes on board.
A Choice Of Entertainment
Watch the curtain go up on a fully staged award-winning Broadway show and catch a side-splitting comedy act that is sure to bring the house down in the two-storey Stardust Theatre. You'll be tapping your feet to the beat all the way through the Broadway show and will more than likely want to get up and join in with the dancing. Once the show is over, head over to the Spinnaker Lounge where now will be your time to shine on the dance floor. Dance like nobody is watching and keep grooving until dusk turns to dawn.
You can choose from a fantastic choice of twevle bars and lounges, each with their own charismatic charm. Gatsby's Champagne Bar is the perfect place to indulge in a glass of refinery, where over in the Star Bar you can indulge in a sumptuous cocktail creation. For an authentic British pub experience, head to The Pearly Kings Pub and choose from an amazing range of beer and entertainment to see you through the night. Take Lady Luck for a spin in Dawn Club Casino and see if you've got what it takes be come out a winner.
Delicious Dishes
After a day full of sunbathing, relaxing in the pool, being pampered in the Spa or working up a sweat in the gym you are bound to have worked up something of an appetite. With 15 dining choices for you to choose from, you are sure to find something for even the fussiest of eaters in the family.
Head to Aqua or Venetian, the two Main Dining Rooms on board, and discover fine dining from master chefs who are members of the international gourmet society Chaine des Rotisseurs. For the ultimate family-friendly restaurant head for the Garden Café on Deck 12, where an array of tasty food from omelettes, pasta, soups, salads and ethnic specialities to keep everyone happy with even a special kid-sized section for the little eaters.
If you don't mind paying an additional a la carte charge why not try gourmet French cuisine in Le Bistro, succulent Japanese cuisine in Teppanyaki, or sensational steaks in the upscale steakhouse and signature NCL venue known as Cagney's Steakhouse. Wherever you decide to eat on board Norwegian Dawn, you'll have access to a word of possibilities.
Dress Code
The dress code on board Norwegian Escape is all about 'Freestyle Cruising'; a concept pioneered by Norwegian Cruise Line. Passengers are invited to dress in casual attire and just enjoy their day. The majority of guests during the evening opt for an elegant casual approach however some guests may choose to dress up for the night.